March 28 – 30, 2019
Join the Fitchburg Art Museum in a celebration of inspiring Italian cinema! From classic to contemporary, these films tackle the complexities of self, home, and human connection through an Italian lens. All films are accompanied by a brief introduction by a Fitchburg State University professor. Films are mostly in Italian with English subtitles.
Thursday, March 28, 6:30pm
Paisan (1946)
Run Time: 2h
Director: Roberto Rossellini
During the Italian Campaign of World War II (Allied operations in and around Italy) the realities of war, language barriers, and everyday life unfold through six distinct stories across Italy. Rossellini expresses his neo-realist style through documentary-like feel and a combined cast of both actors and non-professionals. Not rated. Watch the

trailer

.
Brief introduction by Professor Wayne Munson.
Wayne Munson, Ph.D., is Professor of Communications Media at Fitchburg State University, where, since 1991, he has taught courses in film studies, film/video production, and communication theory.  His book, 
All Talk: The Talkshow in Media Culture,

 won an Outstanding Academic Book (Choice) award from the American Library Association in 1994.
Friday, March 29, 6:30pm
Golden Door (2006)
Run Time: 1h 58m
Director: Emanuele Crialese
Set in the early 1900s, this historical romance-drama follows an impoverished Southern Italian man who risks everything for the hope of a more fruitful life in America. His journey is complicated after he meets an attractive British woman also headed for the States. Rated PG-13. Watch the trailer.
"Its simplicity is robust, and yet there is something under the surface, too."
–The Guardian
Brief introduction by Professor Teresa Thomas.
Teresa Thomas, Ph.D., is a history professor at Fitchburg State University where she teaches courses in modern Italy and immigration history. She has written The Reluctant Migrants:  Migration from the Italian Veneto to Central Massachusetts, as well as articles on Italian-American immigration history. Her current research concerns Italy during the Second World War and Italian migration to Central Massachusetts. She received her M.A and Ph.D. from Clark University.
Saturday, March 30, 1pm
Terraferma (2011)
Run time: 1h 28min
Director: Emanuele Crialese
On the Sicilian island of Linosa, locals are warned not to assist anyone trying to relocate to Europe from North Africa. Two fishermen defy orders when a young man and his pregnant mother are discovered in the water after fleeing a small boat. Rated R for some language and brief nudity. Watch the trailer.
Brief introduction by Professor Rala Diakite.
Rala Diakité is a Professor in Humanities at Fitchburg State University, teaching courses in Italian language and culture.  She has her MA and PhD at Brown University in Italian Studies.  Rala has lived and travelled widely in Italy for work, research and pleasure.  Her research interests include the works of Dante Alighieri, medieval historical narrative, and contemporary drama.  In 2016, with a colleague Matt Sneider, she published The Final Book of Giovanni Villani's New Chronicle (2016) an annotated translation of an fourteenth-century Florentine chronicle.
Saturday, March 30, 4pm
Juliet of the Spirits
(1965)
Run Time: 2h 17min
Director: Federico Fellini
This fantasy comedy-drama and sensuous tale of self-discovery comes from one of the greatest filmmakers of all time. Motivated by superstition and her questionable behavior, Giulietta (Juliet) delves into desire and mysticism in an attempt to amend her mundane life. Not rated.
Brief introduction by Professor Robert Harris.
Robert Harris is an educator, film-poet, and traveler. Currently a professor of film production at Fitchburg State University, he was formerly Curator of Video at Anthology Film Archives (NY) and PS#1 (Queens, NY), and Artistic Director of the New York State Summer School of the Arts:Media Arts. He has taught at the University of California, San Diego; Palomar College; School of the Art Institute of Chicago; and Ithaca College. He has assisted and collaborated with artists Nam June Paik, Shigeko Kubota, and Aldo Tambellini. In 1977, he spent 9 months living with and filming the Ika peoples of the Sierra Nevada de Santa Marta in northern Colombia. His films have been shown in festivals, museums, and institutions throughout the world.
Tickets:
Free   Fitchburg State students, faculty, and staff, including ALFA students; FAM members
$5       General admission to each film
$15     Admission to all four films
Light snacks and select beverages included in ticket price.
Beer and wine available for purchase.
The FAM Italian Film Festival is possible thanks to the support of the Fitchburg State University Foundation, Inc. Amelia V. Gallucci-Cirio Endowment.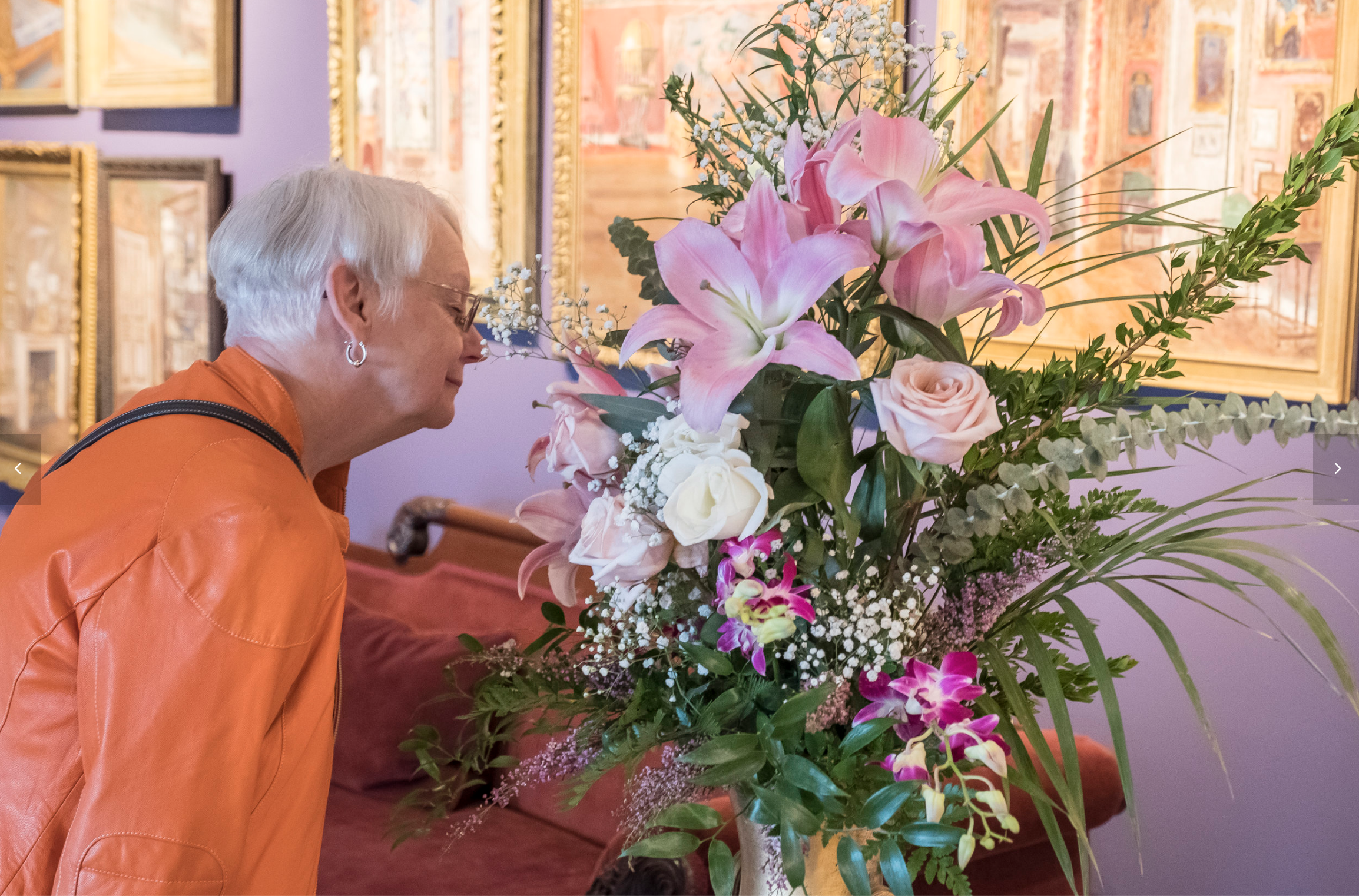 Thursday, April 25th 1-5pm
Friday, April 26th – Sunday, April 28th 11-5pm
Champagne Reception  
Friday, April 26th 6-8pm 
Every spring FAM collaborates with the Laurelwood Garden Club to showcase floral interpretations of our collection and special exhibitions. Stay tuned for more details about the schedule of events.
Are you interested in creating a floral arrangement this year?
Come to a Laurelwood Garden Club meeting on the second Friday of each month at Fitchburg Art Museum or email events@fitchburgartmuseum.org for more information.