Nathalie Miebach's turbulent artworks are rooted in real-world scientific research and a fascination with our nuanced relationship to weather.  Whether on the North Pole or in Central Massachusetts, people always have a story about a storm.  Miebach untangles our connection to weather by translating climatic data derived from high and low-tech instruments, as well as personal observations, into three-dimmesnional sculptures.  Her forms transform numerical statistics normally relegated to two-dimensional charts, maps, and graphs into exhilarating abstract objects that burst with clues about weather patterns, hurricanes, storms, blizzards, changing tides and temperatures, and whipping winds.  Woven like baskets from reed and rope, and punctuated with multicolored paper, Miebach's sculptures are dizzying, beautiful, clever, and complex.  They are artworks and tools, creative expressions and authentic records that combine the methodologies of astronomy, ecology, and meterology with those of art. 
Michelle Samour's multi-media artworks and vibrant, prismatic tinsel paintings are anchored in an affinity for Victorian-era instructional charts, specimen collection, and scientific observation.  Samour is drawn to the order, symmetry, and shimmer found in the natural world (single-cell protozoa about to divide, the bilateral symmetry of butterflies, or beetles with iridescent bodies), and the novel ways our technologies make such data and imagery accessible to us today.  According to the artist, we live in an age "in which computers and phones have become virtual wonder cabinets of visual and textual information, much as the framed collections and illustrations that densely punctuated the walls of Victorian parlor."   Samour's eclectic artworks draw parallels between the penchant for collection and consumption in the Victorian age and our ever-present contemporary desires to access, pin, and post images of nature via our digital tablets and glowing screens
naturetech spotlights three Massachusetts artists – Nathalie Miebach (sculpture), Cristi Rinklin (painting), and Michelle Samour (mixed media) – whose colorful, data-driven artworks are fueled by collisions of art, nature, science, and technology.  Miebach, Rinklin, and Samour each employ unique, abstract visual vocabularies that prompt questions about the natural world and offer exquisite, awe-inducing ways to observe, organize, depict, and understand it.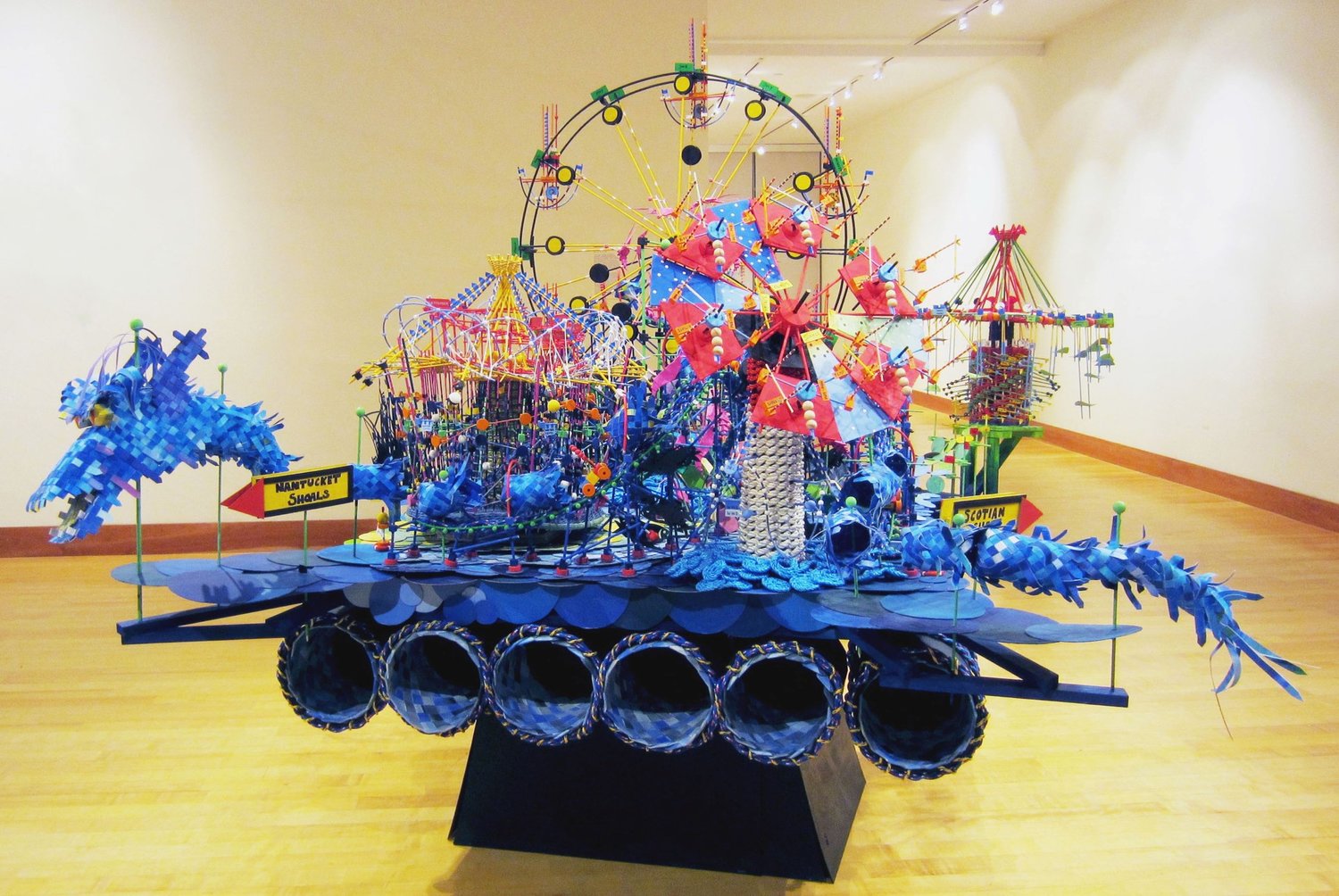 IMAGE: NATHALIE MIEBACH, TO HEAR AN OCEAN IN A WHISPER, 2013, DATA, WOOD, REED, ROPE, PAPER, 7 X 7 X 6 FEET; COURTESY OF THE ARTIST AND MILLER YEZERSKI GALLERY, BOSTON, MA.
Cristi Rinklin's billowing, swirling, smoldering, atmospheric paintings are inspired by portrayals of landscapes (including rivers, mountains, clouds, smoke, and fog) throughout the history of art as well as those found in wallpaper, video games, and virtual realms.  In every case, the artistic landscape is a constructed space of questionable authenticity when compared to the natural world.  Rinklin both exposes and embraces this artificiality.  She fuses and manipulates appropriated landscape imagery beyond recognition and uses the resulting digital collages as source material for her mesmerizing paintings.  Rinklin's new, uncharted, improbable terrains live in moments that hover between fantasy and reality, premonition and memory, conception and extinction.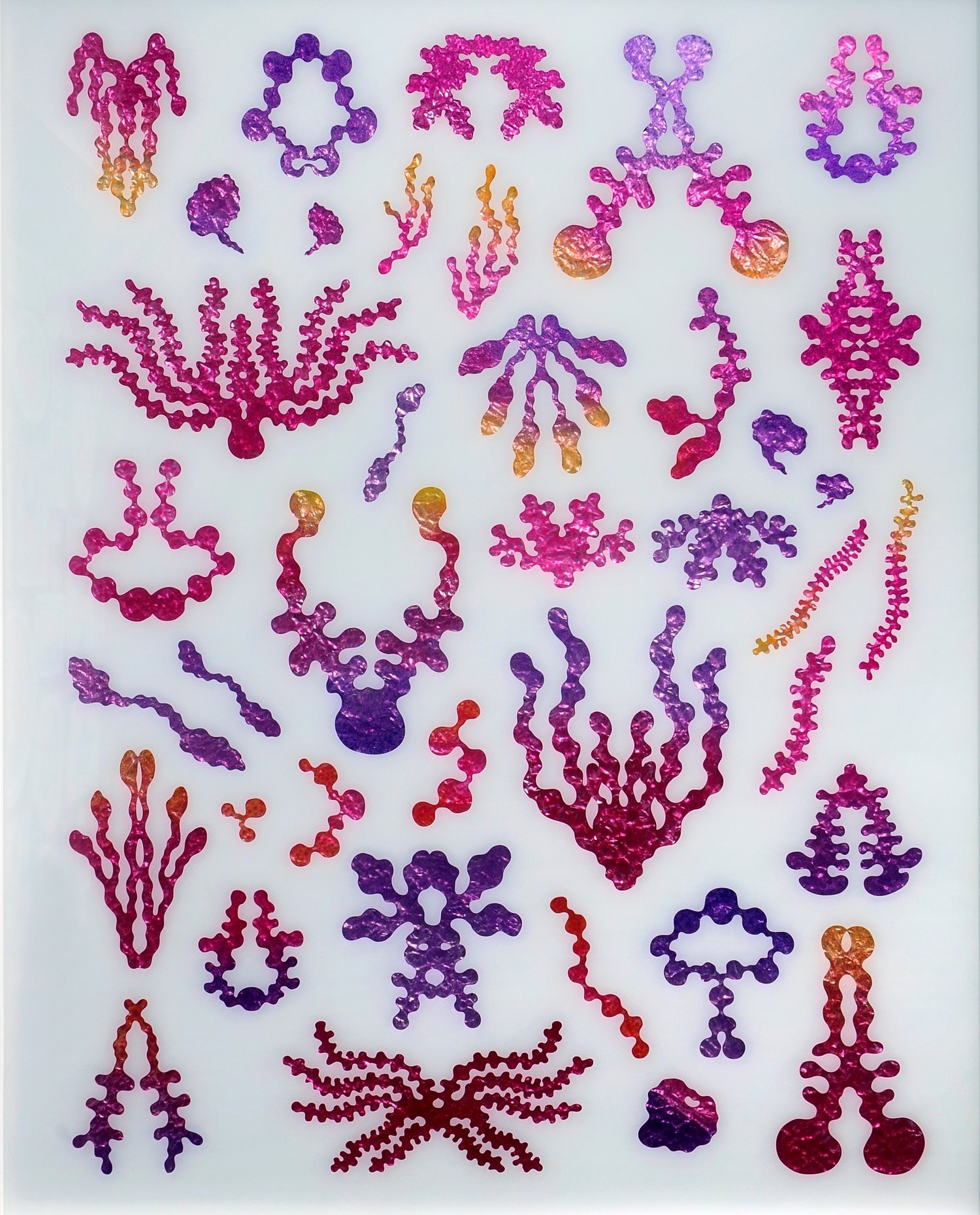 IMAGE: MICHELLE SAMOUR, AGGREGATION NO. 6, 2012, ACRYLIC ON PERSPEX ALUMINUM, ARTIST FRAME, 40 X 47 INCHES; COURTESY OF THE ARTIST.
Press for naturetech
NATURETECH PROMO VIDEOS
Curious about naturetech? Check out the naturetech blog – a work-in-progress, semester-long collaboration between FAM and Fitchburg State University Students Tina Lam, Michael Wallman, Sarah Morin, Anthony Paternoster III, Angela Renzi, and Kyle Prudhomme (under the tutelage of Document Design professor Rob Carr). In their own words, this blog is the result of "Six Fitchburg State University students working cohesively to enrich, enlighten, and entice others to learn more about naturetech, the Fitchburg Art Museum, and all things associated. Our goal is to enlighten readers on things we find of interest and let your curiosity lead you to find things that are of interest to you!" We hope you will enjoy poking around their initial naturetech posts and that you will check back often for updates, images, and videos!  click here for naturetech blog