DANIELA RIVERA: LABORED LANDSCAPES
(WHERE HAND MEETS GROUND)
---
September 21, 2019 – January 12, 2020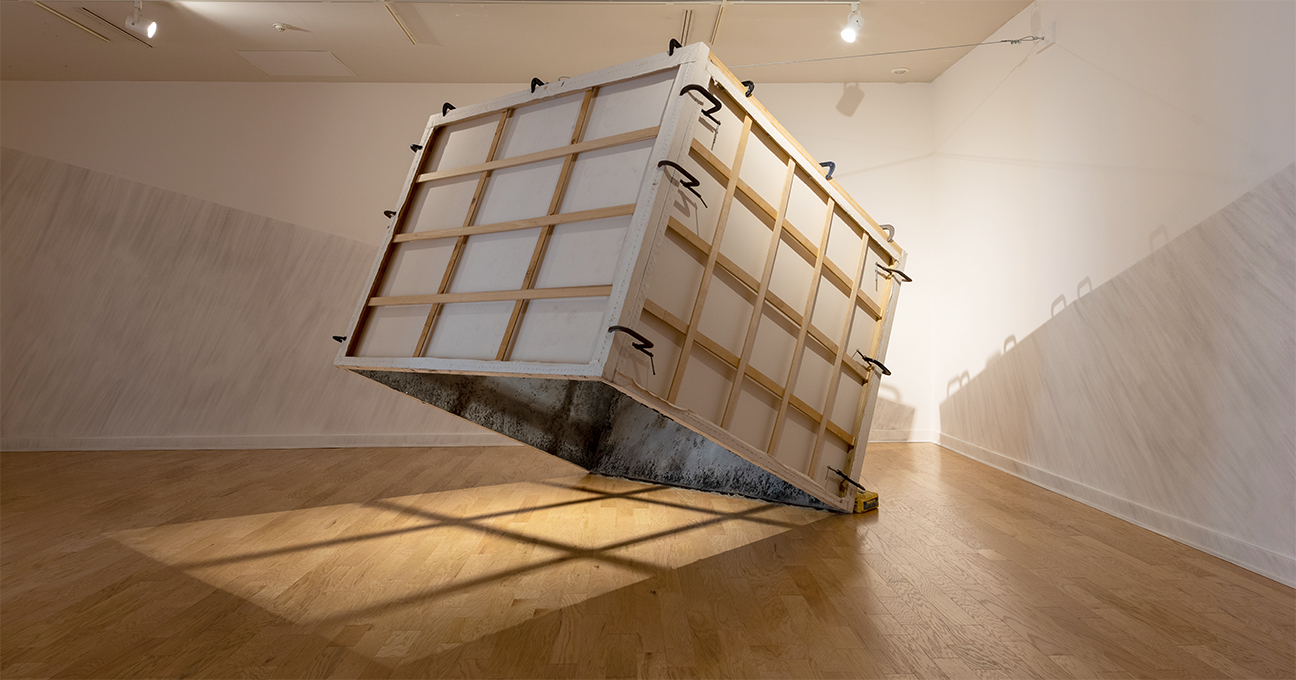 Daniela Rivera, Tilted Heritage, 2015, ash on canvas, stretcher bars, C-clamps, cable, dimensions variable. 2019 FAM installation includes copperpoint wall drawing. Photo credit: Charles Sternaimolo.
Greater Boston-based artist Daniela Rivera's approach to painting is literal and poetic, minimal and theatrical, conceptual and physical. In this exhibition, three distinct installations offer a compelling survey of Rivera's practice. Her works dramatically play to the spaces within which they're installed, thereby heightening viewers' engagement with the art and surrounding galleries.
The narratives that inspire Rivera's pieces reflect on place—be it urban infrastructure, an industrial landscape, and/or museum architecture. She upends perspective through the labor of simulation and encases stories within deposits of material. Rivera's "labored landscapes," as she calls her new topographical paintings of miners' hands and torsos, explore the realm where a person's physical and mental states connect with the earth and their labor. These stories, and others visually expressed in the exhibition, allude to the complexity and uncertainty of national and personal narratives, as well as the paradox of labor that is both productive and destructive. 
To view the press release, click here. 
Para el comunicado de prensa en español, haga clic aquí.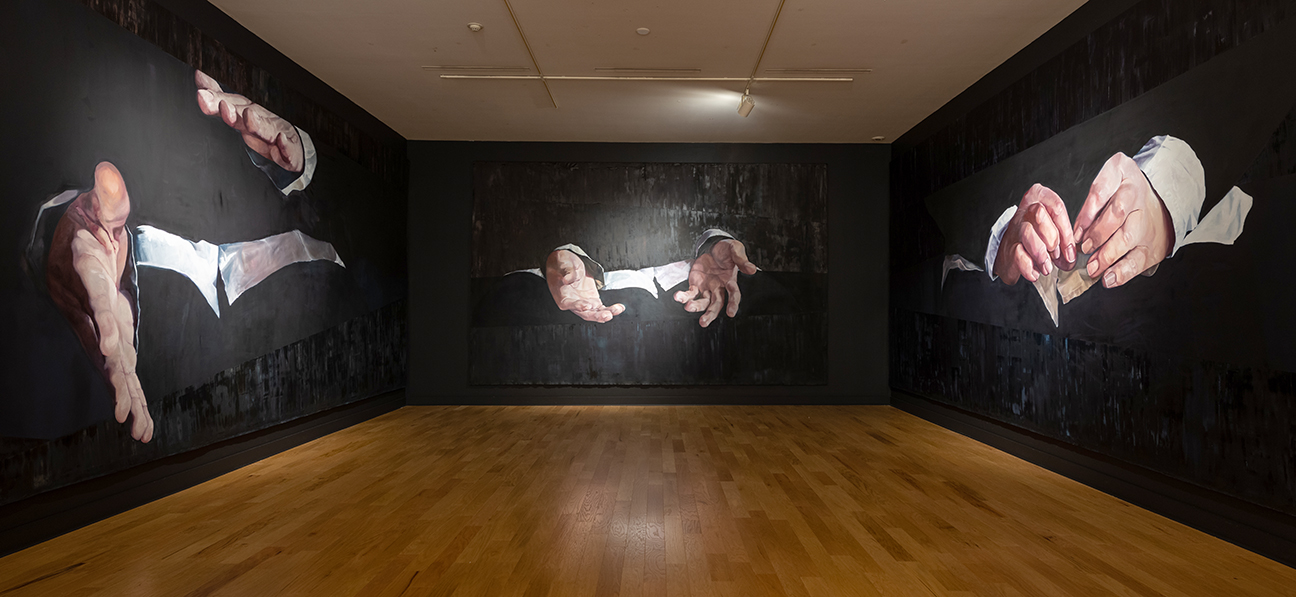 Daniela Rivera: Labored Landscapes (where hand meets ground) installation view. Photo credit: Charles Sternaimolo. Left: Donde el cielo toca la tierra #2 [Where the Sky Touches the Earth #2], 2019, oil on canvas, 12' x 30'. Center: Donde el cielo toca la tierra #1 [Where the Sky Touches the Earth #1], 2019, oil on canvas, 12' x 20'. Right: Donde el cielo toca la tierra #3 [Where the Sky Touches the Earth #3], 2019, oil on canvas, 12' x 30'.
---
Born in Santiago, Chile, Daniela Rivera received her BFA from Pontifcia Universidad Católica de Chile in 1996 and her MFA from the School of the Museum of Fine Arts at Tufts, Boston in 2006. She is currently an Associate Professor of Studio Art at Wellesley College. She has exhibited widely in Latin American cities including Santiago, Chile, as well as in the United States. Rivera is the recipient of the deCordova Sculpture Park and Museum's prestigious 2019 Rappaport Prize. She has also been awarded residencies at Proyecto ACE in Buenos Aires, Vermont Studio Arts Center, and the Skowhegan School of Painting and Sculpture. Notable fellowships and grants include: Now + There, VSC, the National Association of Latino Arts and Culture, and the Berkshire Taconic Foundation. Recent or upcoming exhibitions include: The Andes Inverted, Museum of Fine Arts, Boston (2017–2018); Fragmentos para una Historia del Olvido/ Fragments for a History of Displacement, The Davis Museum, Wellesley College, Wellesley, MA (2018–2019);En Busca de los Andes, solo exhibition with Proyecto ACE, Buenos Aires, Argentina (June 2019); Sobremesa (Karaoke Politics), a public art project developed during her Now + There Accelerator Fellowship, Boston MA (summer/fall 2019).
---