ADRIA ARCH: REFRAMING ELEANOR
---
September 21, 2019 – November 10, 2019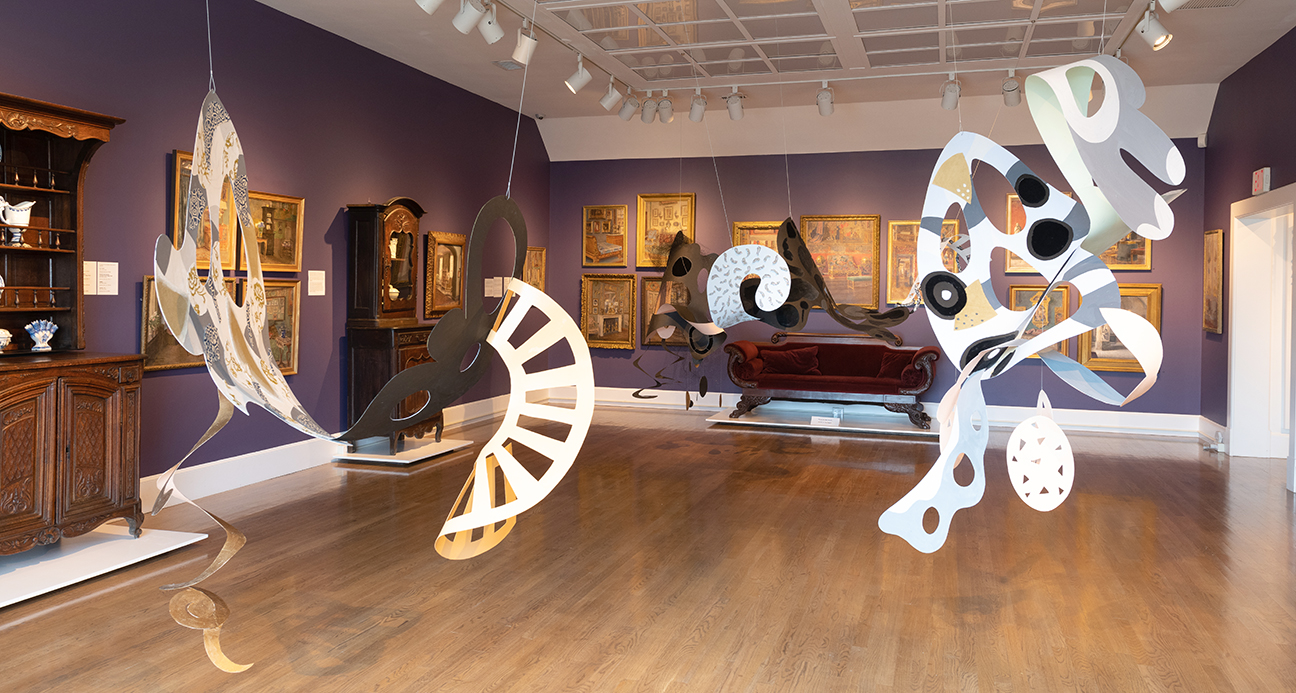 Detail from Adria Arch: Reframing Eleanor, 2019, mixed media, dimensions variable. Photo credit: Charles Sternaimolo.
Adria Arch's new "hybrid painting" re-frames the ongoing exhibition Evoking Eleanor. It is the first in a series of solo shows to respond to the legacy of FAM's beloved founder Eleanor Norcross. Arch's installation of colorful shapes painted on lightweight plastic forms with mixed media slyly reference the palette and composition of Norcross's paintings and collection of decorative objects from the nineteenth to early twentieth century. Arch's sculptural paintings also imagine Norcross's era through visual suggestion of the time's fashion: cut velvet, antique hat netting, and brocaded fabric. The sound designed by composer and musician Ken Field enhances Arch's playful interpretation. Visitors will be invited to move through Reframing Eleanor and to touch Arch's suspended artworks, which are inspired by both the formal properties of painting and spatial considerations of sculpture.
---
Adria Arch

is a Boston-based artist whose practice includes painting and installation. Arch has had solo exhibitions at Danforth Art in Framingham (MA), the Art Complex Museum in Duxbury (MA), and the Hunt Gallery at Mary Baldwin College in Virginia. She has completed site-specific murals at Lesley University's Porter Square building in Cambridge (MA), Stonehill College, and Danforth Art in Framingham (MA). Arch has been awarded residencies at Vermont Studio Center, Virginia Center for the Creative Arts, Sanskriti Foundation in Delhi, and in Auvillar, France. Her work is included in many private and public collections including the DeCordova Sculpture Park and Museum, Fidelity Corporation, and the Federal Bank of Boston.