September 21, 2019 – January 12, 2020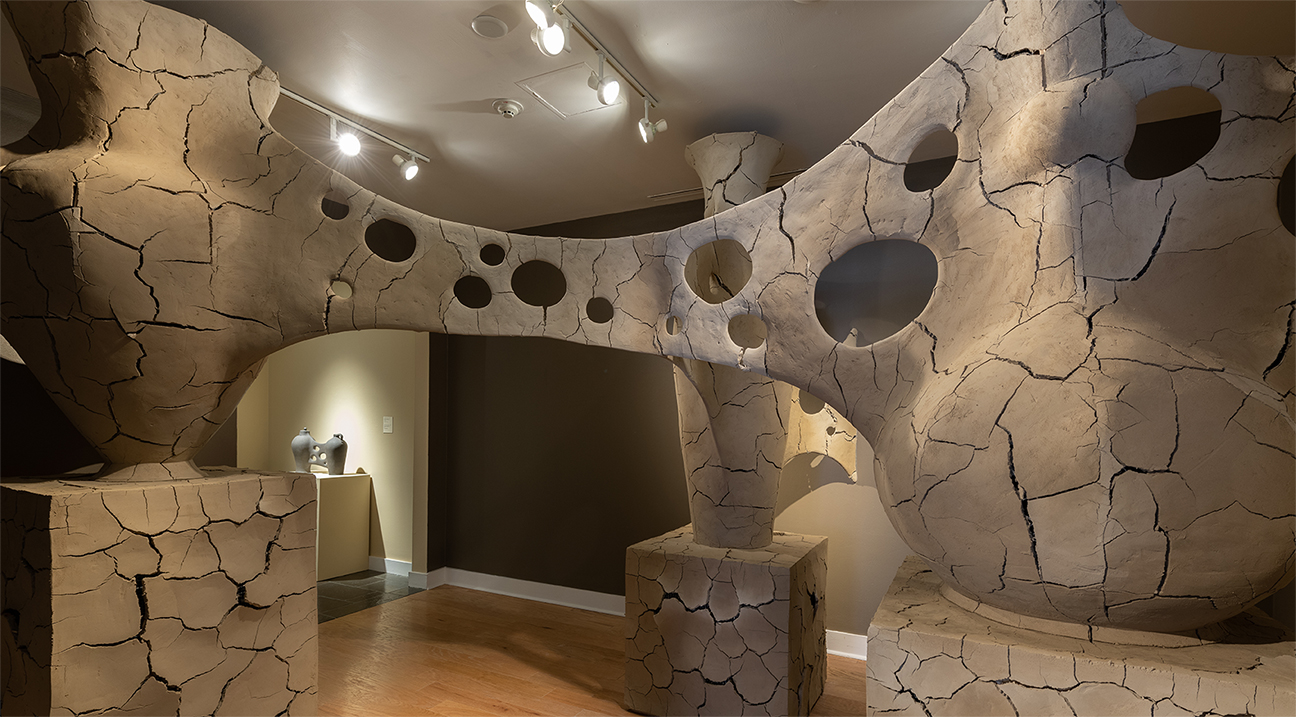 David Katz, Artifactual Body (detail), 2019, clay, wood, wire, dimensions variable. Photo credit: Charles Sternaimolo.
David Katz sees the vast array of ceramic history as a mosaic of cultural innovation and tradition. His sculptures and installation at the Fitchburg Art Museum are inspired by the formal traditions of vessels produced in geographic regions ranging from China to Peru. The sculptures on view draw from a selection of traditions fluidly joined together to emphasize the vessel as a shared cultural icon. Katz's fusion of various ceremonial and functional wares recognizes distinct techniques and designs developed by specific cultures, while finding commonality in the vessel as a shared transnational form. In doing so, Katz challenges the rigidity of cultural identity and edifice. 
Clay has been used to craft vessels for thousands of years. Katz's intimate installation, created on site from unfired clay, expresses a metaphorical experience of the vessel's principal function: containment. The work venerates the past and embraces the temporal through an unexpected engagement with a familiar material.
To view the press release, click here. 
---
David Katz is a Rhode Island-based sculptor and installation artist working with ceramics, found objects, and unfired clay. His work explores notions of existence within a fabricated reality of cultural space, human tendencies of expansion, and the fragility of social constructs. Katz received a BFA from the University of Wisconsin in 2005 and an MFA from Indiana University in 2012. He has been awarded residencies at Greenwich House Pottery, Arrowmont School of Arts & Crafts, Watershed Center for Ceramic Arts, Arizona State University Museum of Art, and at the International Ceramic Research Center in Denmark. David has held numerous teaching appointments including at Bennington College, University of Massachusetts Dartmouth, the Hubei Institute of Fine Arts in China, and his current position at Rhode Island School of Design. A recent recipient of the Rhode Island State Council on the Arts Fellowship in 3D Arts, his work has been widely exhibited nationally and internationally in group and solo exhibitions as well as through corporate commissions.
---