CALL AND RESPONSE: IN TRANSITION
A Collaboration with ArtsWorcester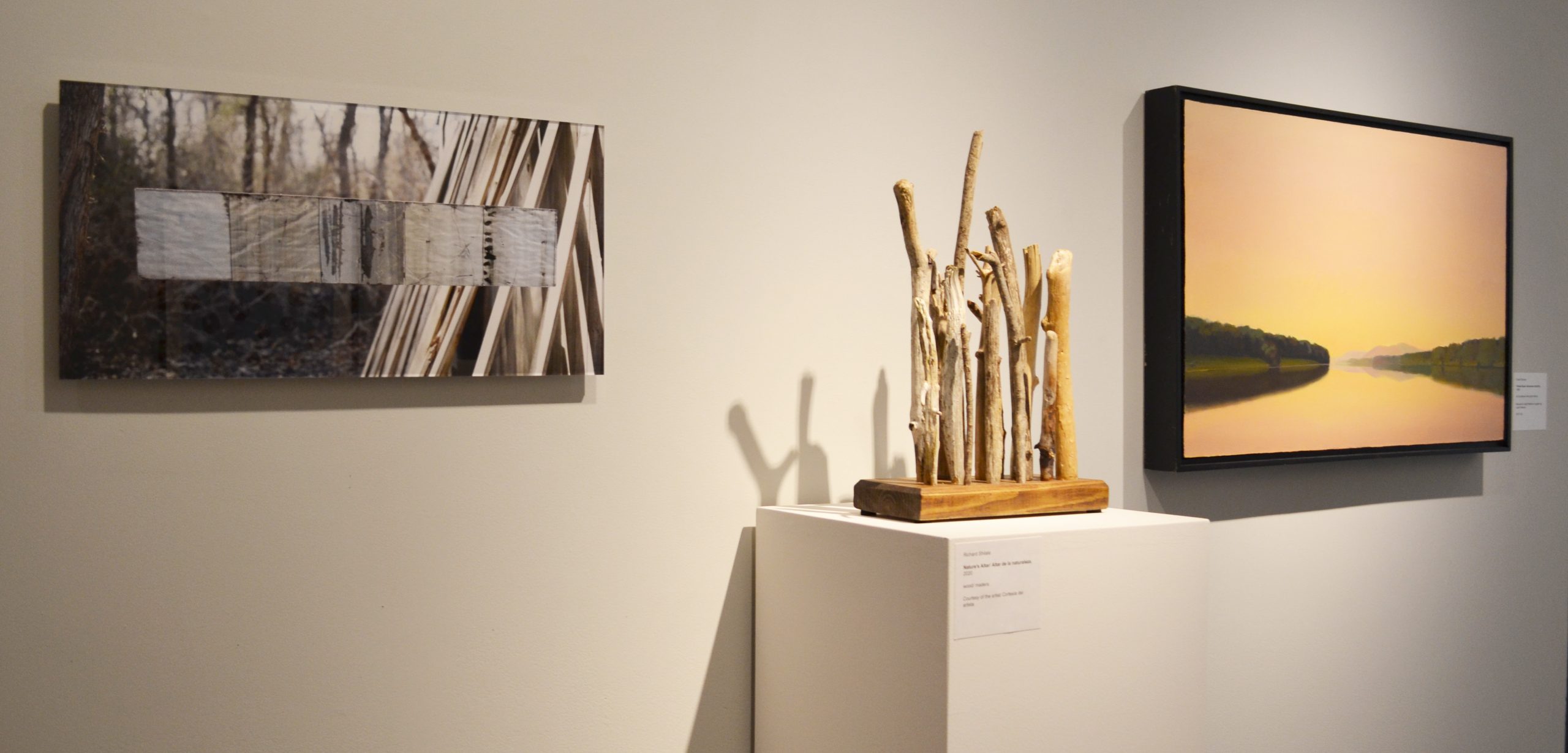 Pictured (from left to right): Gedas Paskauskas, Quinquennium, 2019, metallic inkjet print mounted on dibond with 1/4 inch plexi. Courtesy of the artist. Richard Shilale, Nature's Altar, 2020, wood. Courtesy of the artist. David Gloman, Yellow Dawn, 1999, oil on canvas. Bequest of Jude Peterson. 
In Transition marks the eighth "Call and Response" collaboration between ArtsWorcester and the Fitchburg Art Museum. In honor of ArtsWorcester's new location at 44 Portland Street in Worcester, this exhibition explores the concept of transition and change—a theme with renewed importance in our current moment of unrest and uncertainty.
Earlier this year, ArtsWorcester artists were invited to respond to ten artworks from FAM's permanent collection that reflect a transitional state in some way. From hundreds of submissions, Terrana Assistant Curator Marjorie Rawle selected ten ArtsWorcester artists—Lynn Aurélie, Laura Cahalane, Madge Evers, Garry Harley, Lucy Marcigliano, Lynn Nafey, Gedas Paskauskas, Mari Seder, Richard Shilale, and Susan Stuart—for exhibition alongside FAM's artworks.
 
The works on view explore the multifaceted nature of change in both art and life. In this exhibition, individuals, environments, and objects facilitate and undergo significant transformations, whether physical, mental, cultural, geographic, architectural, or otherwise. Lynn Aurélie's Portrait of Arielle-Sovely and Mari Seder's Dressing Up for Carnaval spotlight bodies in the flux of adolescence and costuming, while David Gloman's Yellow Dawn and Madge Evers' Anne, Lace Maker capture fleeting moments in the natural environment.
Notable shifts in color, shape, scale, and mixed materials also highlight the fluidity of artistic media and processes. Sharp transitions between layered elements are central to photomontages like John O'Reilly's Eakins Double Portrait and sculptural assemblages like Lucy Marcigliano's Inner Rumble. David Furman's Ceramic Tea Cup Assemblage exists in limbo between sculpture and drawing, and the optical illusion of Garry Harley's Grace Gray No. 1 literally transforms before our eyes with extended looking. Together, the works in Call and Response: In Transition provoke meditation on change—in its many forms—as the only constant.
Many thanks to Juliet Feibel and her wonderful team at ArtsWorcester not only for making this collaboration possible for nearly a decade, but also for working to keep it alive through unprecedented circumstances.
Call and Response: In Transition is on view until September 6, 2020 and was organized by Terrana Assistant Curator Marjorie Rawle.