84TH REGIONAL EXHIBITION OF
ART AND CRAFT: JUROR SELECTION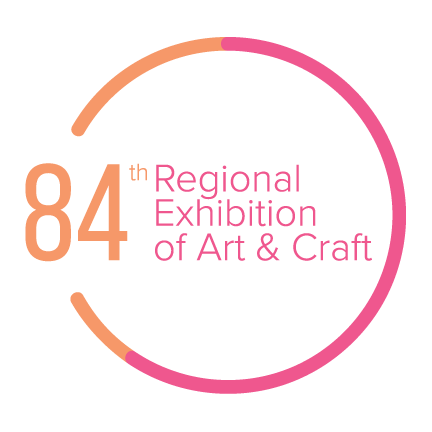 Congratulations to the artists whose artwork has been selected for inclusion in the 84th Regional Exhibition of Art & Craft! We continue to be inspired by our creative community and we appreciate all of the artists and crafters who submitted this year. We hope you will join us for our opening celebration June 21, 6-8 pm here at the Fitchburg Art Museum. Artwork not on this list will be available for pick-up in our lobby Friday, June 14 (12pm-4pm) and Saturday, June 15 (12pm–4pm). We loved seeing so many exciting and diverse representations of artistic style, medium, and point of view from across the region and we hope you will consider applying next year.
Last
First
Artwork Title(s)
Amenta
Jennifer
Early Snow
Asbridge
Bayda
Secret Message II
Asbridge
Maya
Where to Go?
 
Float
Auclair
Debbie
Whimsical Journey
Barthelson
Lisa
random remix 1, family debris
 
5 vessels, tokology 5–9, family debris
Bastien
Amanda
Roy G Bunny
Bentley
Nathan
LATR REGRT
Berg
Eugenie Lewalski
Flow
 
Mesa
Berger
Donna
Presidential Dance
Blanchflower
Crystal
Tea 4 Two
 
Amsterdam Tea
Bogart
Steven
Self-Forgiveness
Bomer
Sally
Internal Landscape #8
Bonnie
Boston
We Are All Mad Here #1
Borofsky
Jeanne
Bauschloss
Calkins
Mary M.
Paints I
Ciccarelli
Skip
Angles & Curves
 
Appalach
Cirioni
Brenda
Mazama 1
Claffey
Debra
The Singing Tree #14
Comeau
Merill
Red, White, and Blue
 
Family Ghosts
Curran
Jane
Exploring the Beauty Within
Davi
Christine Regan
The Girl from Stodge Meadow
Del Guidice
Mark
Passion Calling
 
Siblings
Despres
Louie
Wal-Mart Shopping Carts, West Boylston, MA, 7-21-18
 
Before Weed Whacking, 7-14-18
Dye
James
And So Was Bedlam Brought to Order
Ela
Lucille
Big Blue / Night Visitor II
Evangeline
Doreen
She Wanted a New Look
Evers
Madge
October
Fisher
Ellen
Floating Away
Fletcher
Liz Sibley
Ball & Chain
 
Hooked
Foltz
Chriztine
All Roads Come from Rome
Francis
Diane
Escape
Gannon
Tim
Doubters
Gibbs
Charles
Seven Old Salts
Gibbs
Charlotte
Circle & Square
Graff
Leslie
Ken & Evelyn go to Hawaii, 1972
Gregory
Simon H.
Moss Between Two Elements
Hebert
Maureen
Purple Vessel IV
 
Black Vessel III
Houle
Jenn
Venus 1
Jones
Corey
Galaxy in Madness
 
Galaxy in Isolation
Keough
Jack
Hey Artist, Get a Real Job
Kish
Devin
Loss (androgenetic) #1 
 
Loss (androgenetic) #2
Lamacchia
Terry
Rain on Route 122
Landry
Walter
Gloucester Granite
 
Rockport Granite
Levesque
Priscilla
Canal at Dusk
Licea-Kane
Erica
Up, Over, and Around
Lord
Madeleine
Icarus
 
Chain Link Angel
Lucas
Jonathan
Badlands
 
Branding
McCarthy
Kevin J.
Siamese II
McGowan
Laurie
House of Ink
Melanson
Donna
Pieces of My Memory
Meyers
Thomas
Untitled-1527
Milosz
Elaine
Tenebrous
Moore
Sally
Shell Shocked
Morton
Dawn
Summer in Maine
Nastri
Jenna
Kiss, Kiss, Bang, Bang
Nightingale
Ashley
Seeing Double at the Bowling Alley Bar
Nixon
Carrie
Kirsten in Nature
 
Don't Mess with Kathy
O'Keefe
Doris
"Winds of Change" – A Photographer's View
Occil
Megan Alyssa
Running Out of Time
Opper
Mary June
Somewhere in the Middle
Osterman
Iris
Tidal Pool
 
Falls
Pagano
John
Visual Diary Entry
Parandes
William
Otto
Pearce
Colleen
Towards
Perry-Wood
Zoe
Karman in Trans Colored Prom Dress
 
Gabe in Gay Flag
Pollock
Jessie
Vanishing Landscape XVIII
Pritchard
Kate
Chewie
 
Baby Drogon
Revy
Suzanne
Blizzard
Reynolds
Robin
Jill's Garden – Orange Iris
Rundlett
Lindsey
An Inconvenient Person
Sahay
Sunanda
Save the Daughters, Educate the Daughters
Samant
Piya
Rise in the USA
Searle
Stacy Topjian
Awaiting the Vinedresser
Seaver
Sarah
Monument
 
 
The Devil and the Deep Blue Sea
Severance
Brittany
Spring Starting Table
Shaw
Jesse
Prometheus Lamp # 6
 
Prometheus Lamp # 7
Simmons
Helen Obermeyer
When the Lilacs were in Bloom
Skillicorn
David
Nonet
Solomon
Sid
Black Cathy
St Maurice
Susan
Here Coming / Necklace #2
Stowell
Joanne
The Girl Aisle
Swinand
Susan
Enduring
Wadsworth
Susan
Picos de Europa #2 Northern Spain
Wilkins
Neil
Laminae/ Re: 28
Zibit
Melanie
Naiades
Zipeto
Diana
Frida (Frida Kahlo)