THE BIG PICTURE: GIANT PHOTOGRAPHS AND POWERFUL PORTFOLIOS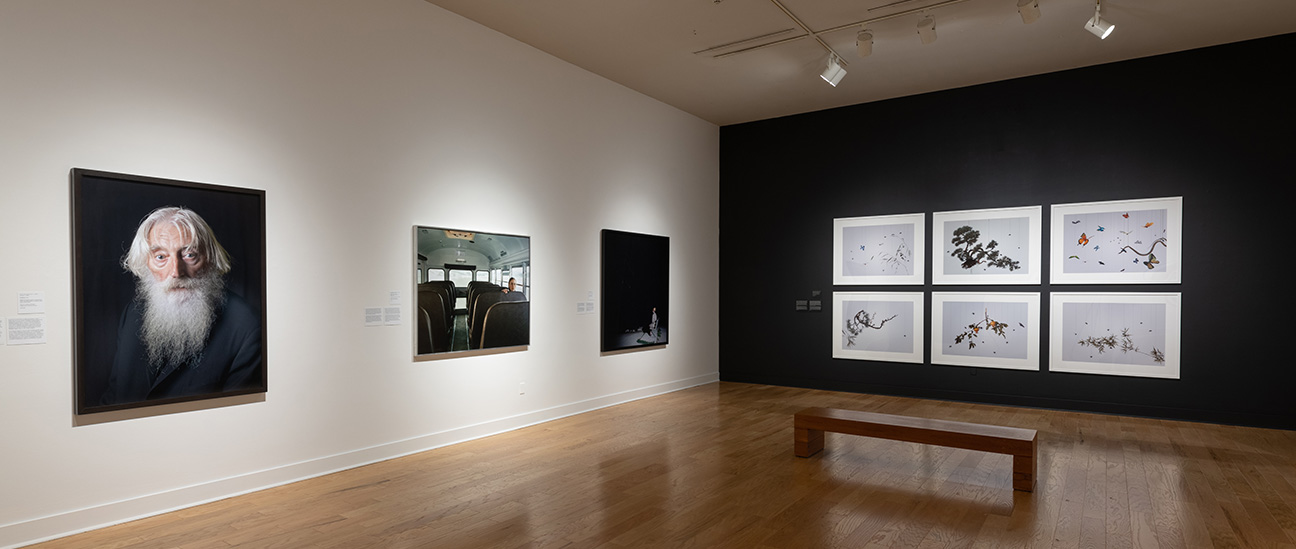 The BIG Picture: Giant Photographs and Powerful Portfolios is a two-part exhibition that highlights recent photography acquisitions at the Fitchburg Art Museum. The Giant Photographs section features large-scale prints (some measuring over 6 x 8 feet) by twenty individual artists, while the Powerful Portfolios section features groups of multiple, related photographs by André Kertész, Steve Locke, Kenji Nakahashi, Ruben Natal-San Miguel, and Barbara Norfleet.
Giant Photographs examines a tendency among contemporary photographers to exploit new digital technologies to create extremely large, high quality prints. Because of their size, these images engage not just with the history of photography, but also with the history of painting, advertising, and cinema. This exhibition also explores how giant photographs change our physical relationship to images, as they tower over and envelop us, instead of being trapped in our phone screens or flying by on the highway. On the Giant Photographs section of The BIG Picture, Terrana Assistant Curator Marjorie Rawle notes: "It's an immersive experience that centers the viewer as an active participant in the culture of images, making us more aware of their role in our daily lives." The show includes the work of photographers from across the globe: Gil Blank, Angela Strassheim, Laura McPhee, Amie Dicke, Eve Sussman, Miao Xiaochun, Ambra Polidori, James Casebere, Sarah Pickering, Pierre Gonnord, Noriko Furunishi, Karin Bubaš, Greg Girard, Héctor Mediavilla, Matt Siber, Paolo Ventura, Tang Yi, Alejandro Chaskielberg, Brian Ulrich, and Hong Lei.
Powerful Portfolios considers the potential of sets of multiple images to create narrative, deliver meaning, and stir emotion. There are haunting and nostalgic black-and-white images by 20th-century giant André Kertész and by photographer, professor, and social scientist Barbara Norfleet, as well as quirky and colorful works by street photographer Ruben Natal-San Miguel and conceptual photographer Kenji Nakahashi. A 2016 series entitled Family Pictures by Steve Locke, a 2020 Guggenheim Fellow, inserts images of historical trauma and violence against Black bodies into quiet, home interiors in order to "reconcile a violent history with the contemporary spectacle of state violence within a domestic sphere," according to the artist.
The BIG Picture offers the opportunity to celebrate the Fitchburg Art Museum's continuously growing collection of photography, which has more than doubled over the last five years. FAM now holds over 2,000 photographs from the 19th, 20th, and 21st centuries. This has been made possible by strategic purchases, and also by gifts to FAM from important collectors of photography, most notably Harley Fastman, Linda Fisher, Martin Goldman and Dorothy Klepper, Arlette and Gus Kayafas, James Pallotta, Richard and Jeanne Press, and Anthony Terrana. Dr. Terrana's ongoing gift of 500+ photographs has not only significantly increased the size of the FAM collection, but also adds recent, color, large-scale digital photography to our art historical holdings.
The BIG Picture: Giant Photographs and Powerful Portfolios is the first exhibition of all of these photographs at FAM. It was organized by Director Nick Capasso with Terrana Assistant Curator Marjorie Rawle.