SUMMER ART CLASSES AND WORKSHOPS
Creative programs for all ages and skill levels! 

Register at the museum, 

online

, or by calling 978-345-4207. Explore our course offerings and general information about fees, policies, and pick-up times below.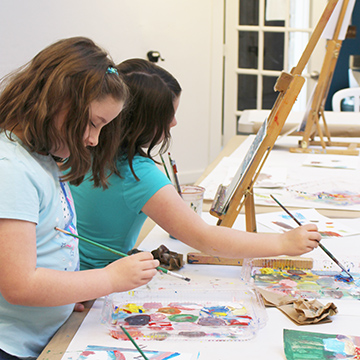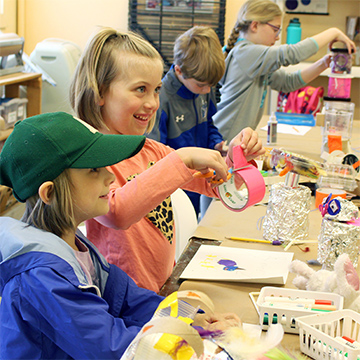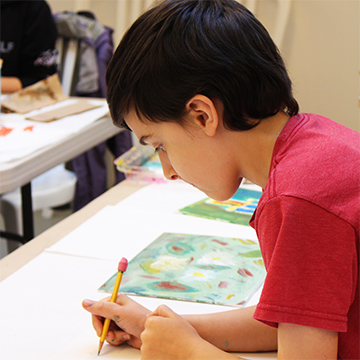 TERM DATES: AUGUST 5-AUGUST 9
DEADLINE FOR REGISTRATION: JULY 31
Build It, Shape It!
For ages 5-8

  |  

9-10:30 am  |  Claire Higgins, Instructor
Build with clay, paper pulp, recycled materials and more to make imaginary animals, fantasy houses, slinky undersea creatures, and other creations. Finish your creations with paint, colored papers, and wire. $53 for Family-level Museum members, $63 for non-members.*
Drawing and Painting Party
For ages 5-8

  |  

10:30 am-noon |  Claire Higgins, Instructor
Experiment with unusual techniques for making pictures with unique drawing materials and water-based paints. (Hint: Sometimes you might not use a brush!). $53 for Family-level Museum members, $63 for non-members.*
Butterfly Wings and Growing Things
For ages 5-8

  |  

12:30-3:30 pm |  Carolyn Carbonell, Instructor
Be inspired by the beauty of nature! We'll explore nature's structures and patterns through drawing, painting, collage, mixed media, and sculpture. $105 for Family-level Museum members; $125 for non-members.
Drawing and Painting Like the Masters
For ages 9-12  |  9 am-noon  |  Carolyn Carbonell, Instructor

We'll look at art in the galleries for examples of composition, shading with color, and expressiveness. In the studio you'll apply your new knowledge to creating a portrait, landscape, and abstract artwork. $105 for Family-level Museum members; $125 for non-members.
Off the Wall and In the Round
For ages 9-12  |  12:30-3:30 pm  |  Claire Higgins, Instructor
Do you prefer making three-dimensional art? Build and sculpt with clay, wire, papier maché, and untraditional materials in this creative class. $105 for Family-level Museum members; $125 for non-members.
WORKSHOP DATE: AUGUST 5
DEADLINE FOR REGISTRATION: JULY 29
Making Comics Workshop
For ages 11-14  |  12:30-3:30 pm  |  Elizabeth Young, Instructor
Learn the basics of developing your own characters and story. You'll examine examples of narrative art forms, from ancient Egyptian art to manga, then use a variety of shapes and styles to design your characters. You'll learn how your characters can tell your story, including stories with a hero and a villain and with the hero changing over time. By the end of the workshop you'll have created your own 4-page illustrated story! $35 for Family-level Museum members; $45 for non-members.
CLASS DATES: JULY 14 and 21
DEADLINE FOR REGISTRATION: JULY 11
Watercolor Painting (Beginner/Intermediate)
Adults | 1-4 pm | Carolyn Todd, Instructor
Spend two Sunday afternoons expanding your skills with watercolor paints. Explore brush techniques, color studies, the power of white, and more. If the weather is good during the second class, we'll take our easels outside for inspiration. A materials list is available on FAM's website or by calling the Museum at 978-345-4207. Questions about this class can be emailed to carolyn@thetoddreport.com. $75 Members, $95 Non-members.
Yoga 
Adults | Tuesdays, 6:15 – 7:30 pm | Melissa Magane, Instructor
Session 1: July 9 – August 27 (8 weeks)
Session 2: Sept 3 – Oct 22 (8 weeks)
Session 3: Oct 29-Dec 17 (8 weeks)
Experience warm-up postures, yogic breathing, and relaxation. Instruction is adapted for all levels of experience. $88, $72 for Museum members, Drop-ins $14 per class,  payable in class.
About the Instructors: 
Carolyn C. Carbonell has a Bachelor of Arts from Salve Regina University and a Master of Arts in Teaching from Rhode Island School of Design. She is certified by the state of Massachusetts to teach grades K-9. Her art teaching experience encompasses both public and private schools, as well as periodically teaching at FAM for over ten years. 

Claire Higgins has a Bachelor of Fine Arts and a Master's degree in Teaching. She has taught art in public and private schools since 2006. Currently she teaches at the Gardner Middle School, and frequently at FAM when school is not in session.

Melissa Magane Certified Yoga Instructor, CYT, Northampton Yoga Center, Northampton, MA, Certified since 1999.

Carolyn Todd has a BFA and MA in Fine Arts and Art Education. Her extensive experience teaching includes middle school, high school, college, and adult students. She specializes in drawing, all types of painting, color theory, and art history. The National Park Service selected her to be an Artist-in-Residence at the Amistad National Recreation Area. Her paintings, drawings, and illustrations are in private collections in the United States and South America.

Elizabeth Young is an artist and educator. She has written a comic book about the Egyptian goddess Bastet, which was displayed in an exhibition about comic books at the Boston Children's Museum. Her presentations have been described as "inspiring, professional, warm, and engaging." She has a Bachelor's degree, and works as a museum educator delivering educational programs about different cultures to children. She also speaks conversational Japanese and Spanish.
General Information
Youth classes are taught by professional art educators who enjoy teaching children. All supplies are provided for youth classes. Adults must bring their own supplies. A list of suggested supplies will be sent automatically if you register through www.familyid.com; otherwise please call the front desk to request one. All youth classes, except the Making Comics Workshop, meet for 5 days, Monday-Friday. Please drop off and pick up children promptly at the Museum's main entrance on Elm Street. Parents/guardians do not have to stay in the Museum during class. A limited number of scholarships are available. Please contact Laura Howick, Director of Education, at 978-345-4207 ext. 305 for details. We believe creating art is especially good for children; they learn motor skills, decision-making, visual literacy, and positive self-expression. Your child does not have to have "talent" to take our art classes, just an interest in art.

*Fees
If you sign up for both morning classes for ages 5-8, the fee is $105 for Family-level Museum members; $125 for non-members. Each class for ages 9-12 is $105 for Family-level Museum members; $125 for non-members. There is an additional fee of $15 for supervision during lunch if the student is taking a morning and afternoon class. (Students must provide their own lunch and snacks.)

Photography Policy
Often the Museum staff or local newspaper would like to photograph students in the classroom for publishing on social media or in the newspaper. If you do not want your child photographed for this purpose, please indicate that on your registration form, otherwise we will assume we have your permission.

Class Cancellations Due to Under-Enrollment or Instructor Illness
If a class has to be cancelled due to these circumstances, students will be notified by phone and refunds will be issued.