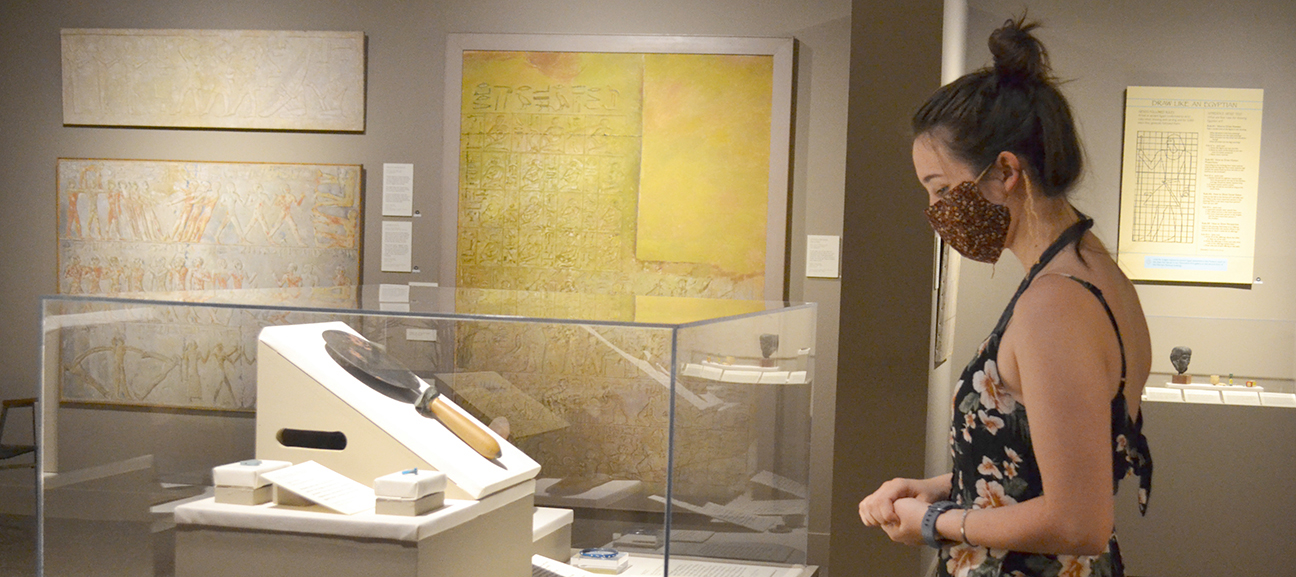 Fitchburg Art Museum is now open to the public. Admission is free until October 2nd. Reservations are not required. Please explore Museum hours, FAQs, and directions below for more information. 
---
HOURS
Wednesday–Friday  12pm–4pm
Saturday–Sunday  11am–5pm
Closed Monday and Tuesday
1st Thursday of the month  12pm–7pm
Fitchburg Art Museum
185 Elm Street
Fitchburg, MA 01420
Telephone: 978.345.4207
Free admission through September is made possible by the Douglas and Isabelle Crocker Foundation and the Highland Street Foundation.
We are grateful to Bank of America for the ongoing support of the Museums on Us program. 
---
FAQs
What should I expect when I visit FAM?
All FAM staff and visitors are required to wear masks.

FAM guests will enter through the Elm Street doors and exit on Merriam Parkway. 

Admission is FREE, but you will be asked to check in and leave your contact information at the front desk.  (Please note your contact information is strictly for contact tracing and will not be used for marketing purposes.)

Parties of 8 or more are not permitted.  Visitor capacity is limited to 50 people in the entire museum and is controlled in all galleries.

Large bags, umbrellas, as well as food or drink are prohibited.

Hand sanitizer is available throughout the Museum.

Social distancing must be practiced at all times. FAM staff will kindly remind you to keep 6 ft. between your party and other visitors. 

FAM has heightened cleaning protocols. Frequent contact surfaces, including door handles and stair rails are disinfected several times throughout the day.

Bathrooms are cleaned several times throughout the day.
Is the gift shop open?
The FAM shop is open in the lobby.  Credit or debit cards are preferred for transactions, but cash will also be accepted for on-site purchases.
Where are the learning lounges?
Our hands on exhibition learning lounges are closed at this time, but will return when it is determined that interactive exhibitions are safe.
Is there food or drink at the Museum?
At this time, there are no refreshments available.  Bottled water can be purchased at the front desk.  Guests are welcome to bring a lunch or snack to enjoy outside in our courtyard.
What is on view?
FAM guests can visit special exhibitions: After Spiritualism: Loss and Transcendence in Contemporary Art, Jo Sandman: The Photographic Work, and Scenes in Circulation: Winslow Homer's America. As well as permanent exhibitions: Evoking Eleanor, Discover Ancient Egypt, and Moving Objects: African and Oceanic Art from the FAM Collection. Learn more.
Can I take a class at FAM?
FAM currently offers online classes.  Learn more on our website or by signing up for our monthly newsletter on our home page.
Can I go on a tour?
On site guided tours are suspended until further notice.  Questions?  Email Ann Descoteaux at adescoteaux@fitchburgartmuseum.org.
Can I rent the Museum for an event?
Will there be an Art in Bloom 2021?
All events are postponed until the State of Massachusetts enters Phase 4. Email events@fitchburgartmuseum.org for more details.
What happened to the Regional Show?
The 84th Regional Exhibition of Art and Craft has been postponed until 2021.
Is my membership expired?  
All FAM memberships have been extended for the length of time the Museum was closed.  New cards will not be issued, but if you would like to request one, please inquire at the front desk during your visit or email membership@fitchburgartmuseum.org.
Will my NARM benefits be extended?
All member benefits are extended through the new expiration date, including NARM reciprocal benefits for members at the Contributor level and above. If you would like an updated card before making use of your NARM benefits, please email membership@fitchburgartmuseum.org.
Questions about your membership.
Email membership@fitchburgartmuseum.org.
I purchased tickets for the Steampunk Masquerade.  When will it be re-scheduled?
Contact Membership and Events Manager, Jessie Olson at events@fitchburgartmuseum.org
---
DIRECTIONS
The Museum is well posted with more than twenty signs within Fitchburg providing directions.
By Car
From the East:
Take Rt. 2 west to exit 31B (Rt. 12 North).

Take Rt. 12 North approximately 4 miles.

Turn right onto the Water Street Bridge, after the Market Basket shopping plaza.

Turn left on Main Street and continue for a half a mile.

Turn right on Academy Street, after Workers Credit Union.

Turn left on Elm Street.  The Museum parking lot will be on your left.
From the South:
Take Exit 10 (Auburn) from the Mass. Turnpike.

Follow 290 (Worcester) to 190 North. Exit at Rt. 2 West.

After 1/4 mile, exit at 31B and follow the directions 'from the east' as above.
From the West:
Take Route 2 East to exit 25 (Route 2A/Fitchburg-Princeton).

Follow 2A East approximately 4 miles and then, follow green signs to Fitchburg Art Museum.

Signs will take you to Main Street in Fitchburg where you will make a left onto the westbound side of Main Street.

Turn right onto Academy St.

Turn left onto Elm St. Museum parking will be on your left.

Parking
Free Parking is available in front of the Museum entrance on Elm Street and in our Merriam Parkway Courtyard. Handicapped parking is available in the Elm Street lot near the main entrance.
Additional Parking
Free on street parking on Elm Street near Lowe Park. Metered on street parking is available along Main Street. There are two public parking garages within walking distance in downtown Fitchburg at 412 Main Street and 133 Boulder Drive. Additional event parking may be available. Please call 978-345-4207 for details.