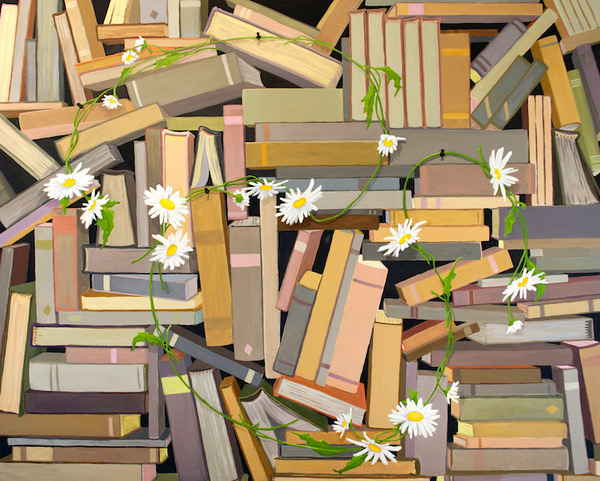 KK KOZIK, NATURE CULTURE, 2018, OIL ON LINEN, 46" X 57″, LENT BY THE ARTIST
KK KOZIK
The Fitchburg Art Museum and Fitchburg State University collaborated on a work of public art for the University's Amelia V. Galluci-Cirio Library.
Connecticut artist KK Kozik  was commissioned to create a mural inside the Library's central four-story stairwell. This mural features painted images of books, playfully cascading down through the space, surrounding visitors and library patrons as they walk up and down the staircase. The mural is aptly titled Flights of Imagination: Juliet, Kate, and Ophelia. 
KK Kozik is an artist and educator who paints in a contemporary representational style, creating images of landscapes, domestic interiors, and poetic and enigmatic narratives. Over the past few years, she has worked on a series of book paintings, in which the books are subtlely imbued with personalities, attitudes, and agendas.