---
REGISTRATION OPEN NOW – 
SUBMIT BY
MAY 22, 2022
June 24–September 4, 2022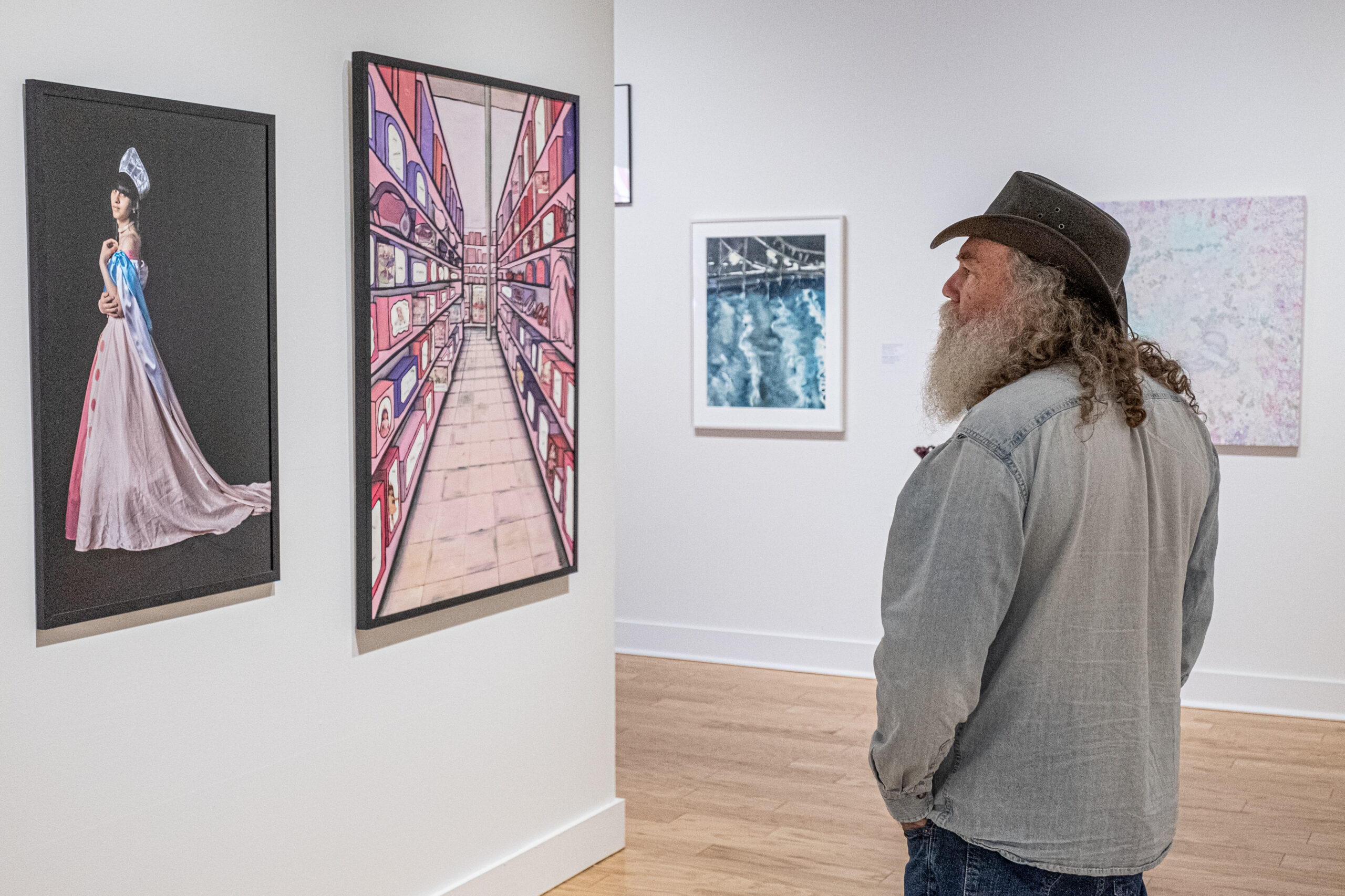 Pictured: Ray Wallace. Photo by Norm Eggert.
The
Regional Exhibition of Art & Craft
is one of the longest-running juried exhibitions in New England, and we are excited to continue the tradition in 2022! This annual exhibition at the Fitchburg Art Museum strives to spotlight and celebrate the artists and crafters of our region by providing a museum environment for their artwork and connecting them with fellow artists, patrons, and enthusiasts. 
 

Just like last year, we're doing our registration and jurying process online. Artists will pay the registration fee and submit images of their work online, but as always, the exhibition of the selected artworks will still be in person at the Fitchburg Art Museum! The

86

th

Regional Exhibition of Art & Craft

will be on view in the FAM galleries from

June 24–September 4, 2022

. 

As the First Prize winner of last year's Regional Exhibition, Bridie Wolejko will also have her solo exhibition, Hypnagogia: Bridie Wolejko's Mixed Media Fantasies, on view from June 24–September 4, 2022.
---
Eligibility & Jurying
The

Regional Exhibition

is open to all artists and crafters working in any medium who live or work within

30 miles of Fitchburg, MA

. Artists may submit up to 2 artworks that have been created

within the last two years

. An outside juror will select the work to be featured in the exhibition. We are thrilled to announce that this year's juror is Jameson Johnson, 

a writer, curator, and community organizer based in Boston. She is the founder and editor-in-chief of Boston Art Review and is the communications and development manager at the MIT List Visual Arts Center. Click here for more about Johnson's work. 
For questions about eligibility, please consult the list of eligible towns below or contact Terrana Assistant Curator Marjorie Rawle:
MASSACHUSETTS:
Acton, Ashby, Ashburnham, Athol, Auburn, Ayer, Barre, Bedford, Berlin, Billerica, Bolton, Boxborough, Boylston, Carlisle, Charlton, Chelmsford, Clinton, Concord, Devans, Dracut, Dunstable, East Brookfield, Erving, Fitchburg, Framingham, Gardner, Grafton, Groton, Hardwick, Harvard, Holden, Hubbardston, Hudson, Lancaster, Leicester, Leominster, Lexington, Littleton, Lowell, Lunenburg, Marlborough, Maynard, New Braintree, North Brookfield, Northborough, Oakham, Orange, Paxton, Pepperell, Petersham, Phillipston, Princeton, Rutland, Shirley, Shrewsbury, Shutesbury, Spencer, Sterling, Stow, Sudbury, Sutton, Templeton, Tewksbury, Townsend, Tyngsboro, Upton, Warwick, Wayland, Wendell, West Boylston, West Brookfield, West Townsend, Westborough, Westminster, Westford, Weston, Winchendon, and Worcester
NEW HAMPSHIRE:
Amherst, Bedford, Bennington, Brookline, Dublin, Fitzwilliam, Francestown, Greenfield, Greenville, Harrisville, Hancock, Hollis, Hudson, Jaffrey, Litchfield, Londonderry, Lyndeborough, Marlborough, Manchester, Mason, Merrimack, Milford, Nashua, New Boston, New Ipswich, Pelham, Peterborough, Richmond, Rindge, Sharon, Swanzey, Temple, Troy, and Wilton
---
Registration
The registration fee is $30, which includes a one-year individual membership to the Fitchburg Art Museum and covers the submission of up to 2 artworks.
 Learn more about the benefits of a FAM membership here.
The deadline to register is May 22.
If you are already a member of the museum or would like to request student or hardship pricing, please contact Membership & Events Manager Jessie Olson:
---
Artwork Submission
To register and submit your work, please read the following instructions carefully and complete each step.
1 – Submit your registration payment and contact information here.
2 – You will receive an email confirmation of your registration and payment. The email will include a link to a Google Form where you will submit the images and details of your artwork(s).
If your artwork is selected by the juror, you must be available to drop it off to the Fitchburg Art Museum on either: 
Friday, June 3, 12–4pm
Saturday, June 4, 11–4pm
Questions about your registration payment? Email
Questions about artwork submission or eligibility? Email Terrana Assistant Curator Marjorie Rawle:
---
Artwork Selection, Exhibition, and Prizes
The list of artworks selected by our juror for the exhibition will be posted on
May 27, at 5pm
.
To acknowledge the many extraordinary artists and crafters of our region, we offer a number of modest cash awards. The prizes to be awarded by our juror include:
First, Second, and Third Prizes
Sculpture Prize
Craft Prize
Voitto Jarvi Watercolor Prize 
Saara Parker Painting Prize
Stephen Jareckie Photography Prize
The First Prize winner earns a solo exhibition alongside the 87th Regional Exhibition of Art & Craft in summer 2023! 
For general questions, please contact Terrana Assistant Curator Marjorie Rawle:
---
The 86th Regional Exhibition of Art & Craft is sponsored by generous contributions from Workers Credit Union, Shea Family Fund, Massachusetts Cultural Council, Fitchburg Cultural Council, Gardner Cultural Council, Westminster Cultural Council, and the Cultural Councils of Acton- Boxborough, Ashburnham, Ayer, Bedford, Bolton, Boylston, Concord, Groton, Harvard, Hubbardston, Lancaster, Leominster, Littleton, Marlborough, Paxton, Pepperell, Rutland, Shirley, Sterling, Templeton, and Townsend.