---

---
Learn about new exhibitions and the permanent collections and how they can enhance your curriculum. Connections to the Massachusetts Curriculum Frameworks are included in every workshop. PDPs and In-Service Credits are available. For dates, times, and topics, check the Calendar or contact the Director of Education, Susan Diachisin at 978.424.4505.
Curious about what to expect during your visit?
Watch our 3-minute "Preview for Families and Teachers" video on the right or here.
INSPIRING MINDS THROUGH ART
Developed by the Museum in conjunction with teachers from the former Museum Partnership School, Inspiring Minds Through Art offers a Curriculum Framework and Lesson Plans for integrating art objects into classroom curricula.
Why Integrate Art Objects into School Curricula? Art objects work well at the center of inquiry-based learning since they naturally arouse curiosity and invite investigation. From "What is it?" to "What does it signify?," students questions about artwork can motivate learning. The rich layers of meaning inherent in artworks give students opportunities to exercise higher-order thinking such as reasoning (making hypotheses based on evidence), taking different perspectives, finding problems and puzzles, interpreting, evaluating, and summarizing.
Download the Curriculum Framework, Essential Skills lists, Thematic Connections, Curricular Connections Chart, and the Lesson Plans by clicking the corresponding link. 
The Lesson Plans relate to English language arts, history, science, and math. Sample topics include Mapping, Pre-writing, Scale in Paintings, Landform Properties, and Observation. Feel free to adapt these lessons to suit your needs. The Curricular Connections Chart shows which lessons are relevant to basic subjects in the curriculum.
Inspiring Minds Through Art was funded by the Institute of Museum and Library Services, a Federal agency that fosters innovation, leadership, and a lifetime of learning. Please contact Susan Diachisin, Director of Education, if you have questions about these resources or suggestions for additional resources at .
Ghana, Africa Classroom Kit 
Moving Objects: African and Oceanic Art from the FAM Collection
See more amazing objects from the Museum's permanent collection. Please find information below about this exhibition. 
Evoking Eleanor
This exhibition explores the legacy of artist, community leader, and Fitchburg Art Museum founder Eleanor Norcross.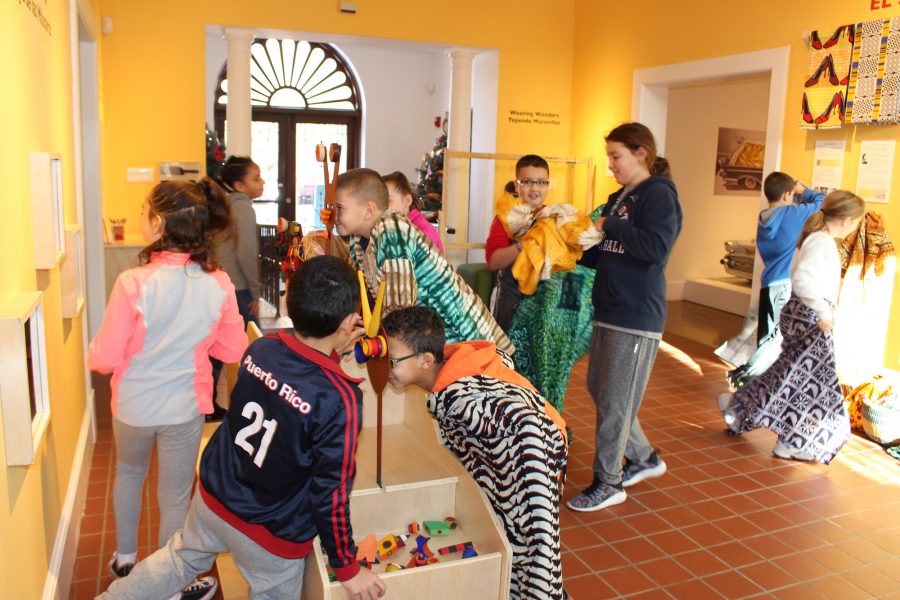 Discover Ancient Egypt
Prepare your students for a visit to this educational, interactive gallery. The 50-page manual describes the lay-out, objects, educational components, and sub-topics in the gallery. Suggestions of key concepts for discussion and activities are provided for each area. Also included are copies of the large didactic labels, a first person account of opening a tomb, a bibliography, background information on women's legal rights, and recipes for foods eaten by the ancient Egyptians. 
Please contact Laura Howick, 978.424.4505, for more information and materials.
RESOURCES FOR
PAST EXHIBITIONS
---
Fantastical, Political 
Fantastical, Political featured the work of five contemporary New England artists in order to examine the use of "fantastical" aesthetics—conceived here as extravagant, ornamental, or, in certain instances, surreal—to drive dialogues on femininity, ecological degradation, national identity, gun violence, and a culture of war. Artistic techniques represented in the exhibition include drawing, collage, marbling, ceramics (cast and handbuilt), sculpture, and mixed media. 
People Watching: Then and Now 
From ancient times to the present, portraiture has represented the people of its day and the complex social, political and cultural moments in which each subject and artist lived. People Watching brought together paintings and sculpture from FAM's collection–principally ancient busts, Western paintings from the eighteenth to the twentieth century, and African sculptures–with artworks by thirteen contemporary artists from New England to explore the way that observation and representation of the human subject has shifted over time. 
Plastic Imagination
Plastic–a product inextricably tied to the manufacturing history of North Central Massachusetts–has many characteristics that make it fantastically unique. This multipurpose material can be luminous, colorful, lightweight, flexible, durable, practical, playful, affordable, and aerodynamic. It can conjure associations with industrial accomplishment, encourage feelings of nostalgia, fuse popular culture and fine art, and trigger very real fears about consumption and waste. 
TRIIIBE: same difference
Fueled by a common interest in identity, performance artists Alicia, Kelly, and Sara Casilio (identical triplet sisters) and National Geographic photographer Cary Wolinsky joined forces in 2006 to form TRIIIBE – an artistic collective that often expands to include family, friends, and fellow artists. TRIIIBE's painstakingly staged photographs, performances, and videos play up the sameness of the sisters to provoke cultural conversations about gender, equality, and difference, while traversing hot-button social and political issues.  Behind each TRIIIBE endeavor is a clever, satirical, and egalitarian exchange of ideas and an elaborate cluster of costumes, wigs, props, and make-up.
This resource packet includes suggestions for writing and art activities, explanations of key strategies used by TRIIIBE, questions to provoke discussions about identity, plus copies of labels and images of several artworks.
One Language Is Never Enough: Latino Artists in Southern New England
One Language Is Never Enough: Latino Artists in Southern New England was a group exhibition featuring twenty-four contemporary artists who currently live and work in Connecticut, Massachusetts, and Rhode Island. Each of these artists can trace personal roots to specific cultures and countries in Latin America, including: Argentina, Brazil, Chile, Colombia, Cuba, Dominican Republic, Ecuador, Mexico, Peru, Puerto Rico, and Venezuela.
The artists included in this show address themes of identity, hybridity, environmentalism, social responsibility, memory, language, stereotype, and spirituality, and have mined traditions of portraiture, printmaking, photography, sculpture, illustration, magic realism, landscape painting, and abstraction to do so.  
Land Ho!


Land Ho! was a group exhibition that celebrated the timeless lure of the landscape in art. From majestic mountains and gently rolling hills to bucolic pastures and dewy, green fields, our landscapes are ever-changing terrains with the power to move, excite, and inspire us. Artists have been spellbound by the beauty and mystery of the landscape for centuries, and it is a rare and wonderful treat when landscape paintings from generations past hang side by side with works by twenty-first century talents. 
Still Life Lives!


Still Life Lives! was a group exhibition that celebrates the vitality of the still life tradition and its themes of beauty, bounty, darkness, fragility, and fleeting moments. Still Life Lives! featured paintings from FAM's permanent collection – gorgeous florals and fruits by Nell Blaine, Marc Chagall, Henri Fantin-Latour, William Harnett, Walt Kuhn, Georgia O'Keeffe, and Marguerite Zorach, to name a few – surrounded by striking examples of the genre by over twenty contemporary New England artists.